Copyright © Dr. Stephen G. Payne
All rights reserved.
Leadership Strategies LLC
70 E 10th St, Unit 3G
New York, NY
10003

1-800-LEADERX | +1-609-921-3399

LEADERSHIP
GROWTH!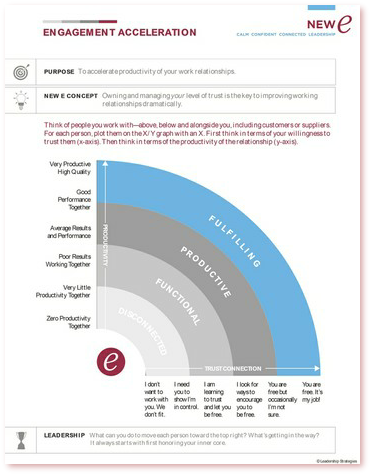 "People want and deserve more joy at work. Retaining the brightest and best individuals needs something far better than systems and values. They need a leader who is expanding his inner core so that they are inspired to do the same."
Kevin, President
Technology Products
It takes courage to inspire others. Plus commitment to learn new things so that career and job performance do not stagnate.
The New E Model engages your courage and commitment right where you need it - in the day-to-day work of your job and career.
We try hard not to separate your learning from the context of your work so you see the benefit as quickly as possible. We do our best to surround you with qualified support so you keep your learning journey going.
Your New E Guide is pivotal. This is someone, also a New E practitioner, who understands your workplace demands and helps you customize the New E tools to your unique situation. The entire process is explained at an introductory meeting with your Guide. With positive chemistry between you and your Guide, you will be more than ready to begin the New E Foundational Program which sets out the basic tenets of your New E learning.
Think of this as learning basic tools needed for the remainder of your New E journey. From success with the basics you will move rapidly to more focused application to your specific journey.
Your Guide will be ready to encourage and help you select your Track:
New career navigation

Boosting current job performance

Building and rebuilding great working relationships

Building and inspiring a growth organization

Just getting more fun at work